0 The Fool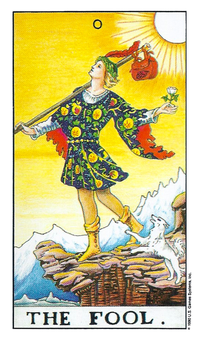 Invocations
Fool of my heart,
grant me the courage
to leap and not count cost.
Little dog, little dog,
be still, you cannot
save me.
Garden of my dreams and
everywhere I've been before,
sustain me.
I believe. I believe. I believe.
Oh, sweet Abyss,
I am yours.
Offerings
Give roses, white and yellow.
Toss pebbles over the edge.
Let the sky take your kite.
Give over anything too heavy to carry, too precious, too dear.
Whistle.
Give yourself freely.
Blessings
You will be cracked open.
It may be that through this sacrifice of what has been, something new will emerge. Maybe.
Guidance
You never expect the unexpected.
Step now into the unknown.
Your whole life is waiting.
Don't waste time thinking.
You might as well just go on and go.
Ward
I will anchor myself in the real and the here and the now.
I will plant my feet and center my weight.
I will wait. I will listen. I will consider.